Those of you who follow this blog know I often bemoan the lack of a grill. Now that we live close to family, my rants are over.
For our "quaranteam" of four adults (and one toddler), backyard grilling is a regular activity. Yes, it's great to have a grill in the family. But what I'm truly grateful for, of course, is being together to share family mealtime.
I'm also grateful to Jeff @foodwineclick who arranged for some of the Wine Pairing Weekend group of bloggers to receive samples of wines from Moldova. We'll be chatting about these wines Saturday 7/11 at 8 am PT/11 am ET. If you're reading this post in time, please join us by following the #winePW hashtag.
(Please note that while the wines for this post were provided, opinions are my own.)
Where in the world is Moldova?
Exactly. I asked myself this same question when Jeff suggested this topic after visiting Moldova on a press trip last summer. You can read all about his travels and see amazing photos on his blog.
Moldova is a landlocked country in Eastern Europe. It is bordered by Ukraine on three sides – to the north, east, and south – and by Romania to the west. One of the former Soviet-bloc states, Moldova gained its independence from Russia in 1991 and is now officially named the Republic of Moldova.
Here are some facts I learned about Moldovan wine from my research:
Moldova has a long history of winemaking that began around 3000 BC, and traces of grapevines date back to around 7000 BC. Throughout its history, wine and grapes have been deeply rooted in the culture, myths, folklore, and legends of Moldova. Even the map of today's Republic of Moldova is shaped like a bunch of grapes.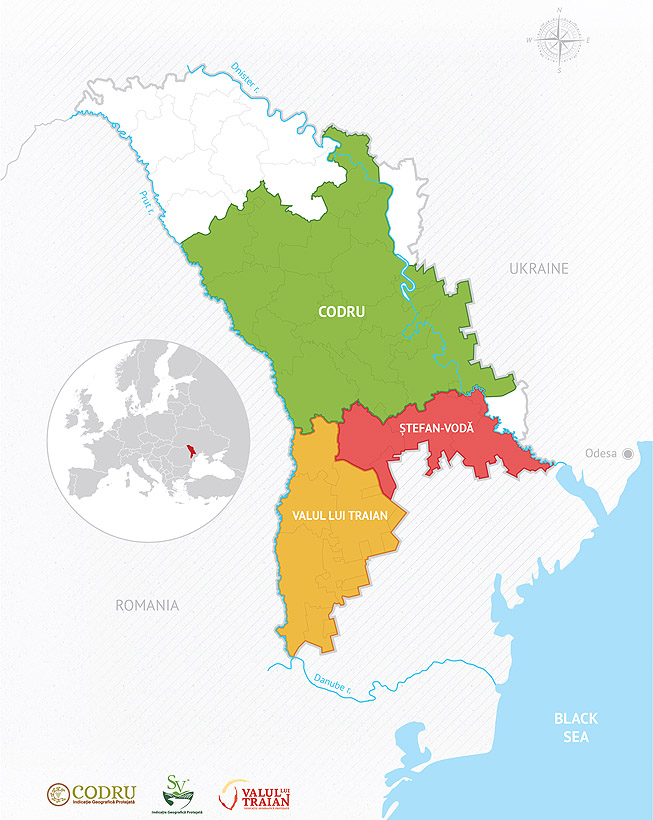 Although relatively small, Moldova ranks among the most significant wine regions of Eastern Europe. Globally, Moldova was 19th among worldwide wine producers in 2018 and has the highest density of vineyards in the world.
The country's moderate continental climate – short winters and long summers – create almost perfect conditions for viticulture. Landscapes vary from steppes in the east, to forested hillsides in the central zone, to the vast Bugeac Plain in the south. This undulating landscape reminds some of the Piedmont and Tuscany regions of Italy.
Russia was a major market for Moldovan wines in recent times, until politics raised its nasty head in 2006. Heated negotiations over the disputed territory of Transnistria – and unsubstantiated allegations that resulted from that dispute – led Russia to ban the importation of all Moldovan wines for a time.
The country's economy benefits greatly from wine production, not only from sales but also from a well-developed wine tourism industry.
Moldova is famous for its vast underground wine cellars at Cricova and at Mileștii Mici – the latter holds the Guinness World Record for the largest wine collection in the world.
In 2013, Moldova adopted the European Union (EU) classification model and now has four Protected Geographical Indication (PGI) zones.
Of the total vineyard area, almost twice as much is planted to white versus red varieties.  Once upon a Soviet-era time, farmers had to pull out indigenous grapes in favor of international varieties. Now, the area of vineyards planted to native grapes is increasing.
Sources: foodwineclick, wine-searcher.com, Wikipedia, Wine of Moldova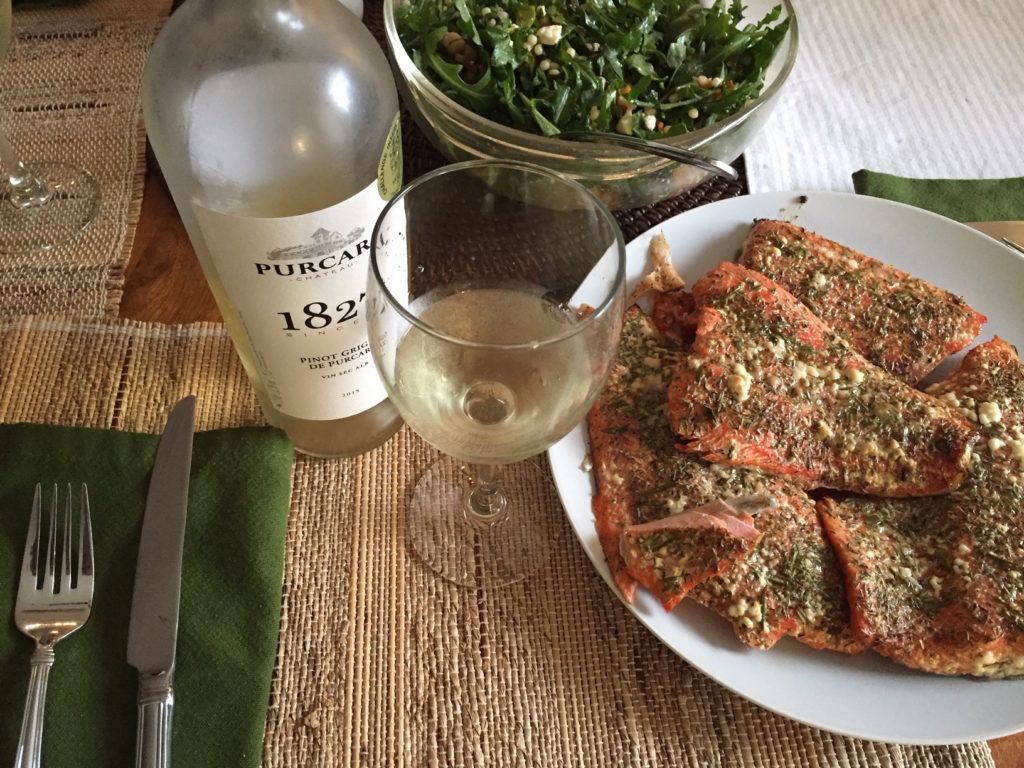 The wines and pairings
2018 Purgari Pinot Grigio de Purcari
100% Pinot Grigio
Purcari winery is located in the Ștefan Vodă region of southeastern Moldova. Vines grow on terraces along the Dniester River, plains, and slopes, at an average altitude of almost 400 feet. The moderate continental climate of this region benefits from proximity to the Black Sea.
Typical soils are podzolized (according to Merriam-Webster, "a process of soil formation especially in humid regions involving principally leaching of the upper layers with accumulation of material in lower layers") and carbonated chernozems (a Russia term to describe black soil rich in carbonates and humus) with clay in some areas. In other words, this is rich and fertile soil. "1827" is the year the winery's underground cellars were built.
Tasting notes: Pale yellow in color. A grassy nose of pear, melon, and yellow apple. The palate is bursting with medium+ acid, but decidedly not tart. I get pear and lemon-lime with a soft mouthfeel and medium finish. Somebody called this wine more "gris" than "grigio," meaning closer in style to Alsatian wine from France than to Italian Pinot Grigio. I agree. Alcohol: 13.5%. Average price: $11.
Pairing notes: Ah, the grill – we sprinkled thyme and fresh rosemary over wild salmon fillets and grilled them on cedar planks. So delicious on their own. Compatible with the wine, but not a "wow" moment. Some additional lemon might do the trick.
2015 Cricova "Prestige" dry red blend, Codru
75% Cabernet Sauvignon, 25% Merlot
Set among the wooded hills and small river valleys of central Moldova, Codru is the country's coolest wine zone. Oak and linden forests cover 25% of the landscape protecting the vineyards from northerly winds and frost. Grey forest soils and chernozems (see definition above) are the typical soils here. The region is noted for white grapes, especially Fetească Albă, Muscat Ottonel, Sauvignon Blanc, and Chardonnay. Red varieties can also be grown in warmer microclimates.
Cricova is internationally known for its "underground city." A labyrinth of tunnels, created from a former limestone quarry, houses 8 million gallons of wine and stretches over a distance of 43.5 miles. The streets of the underground city are named after the wines housed here: Cabernet, Chardonnay, Sauvignon etc. Some of the streets are as deep as 262.5 feet below ground, a depth that ensures constant humidity and temperature throughout the year and provides an ideal location for the National Wine Collection. Included in this collection are wines that Herman Goering paid as retribution after World War II, and special vintages from Moselle, Bourgogne, and Bordeaux.
Tasting notes: Ruby in color. A fruity nose of plum and blackberry with a hint of blueberry gives way to an oaky palate with plenty of tobacco and hints of ripe bell pepper and eucalyptus upfront. I get a bit of vanilla on a medium finish. Medium acid. Smooth tannins on this 2015 red blend make it easily quaffable right now. Alcohol: 13%. Average price: $16.
Pairing notes: This pairing was my favorite of the three. The fruity red blend loved the thyme/rosemary grilled lamb sliders, and vice a versa. I try to minimize the amount of meat I consume, but this match was so spot-on I would choose it again and again.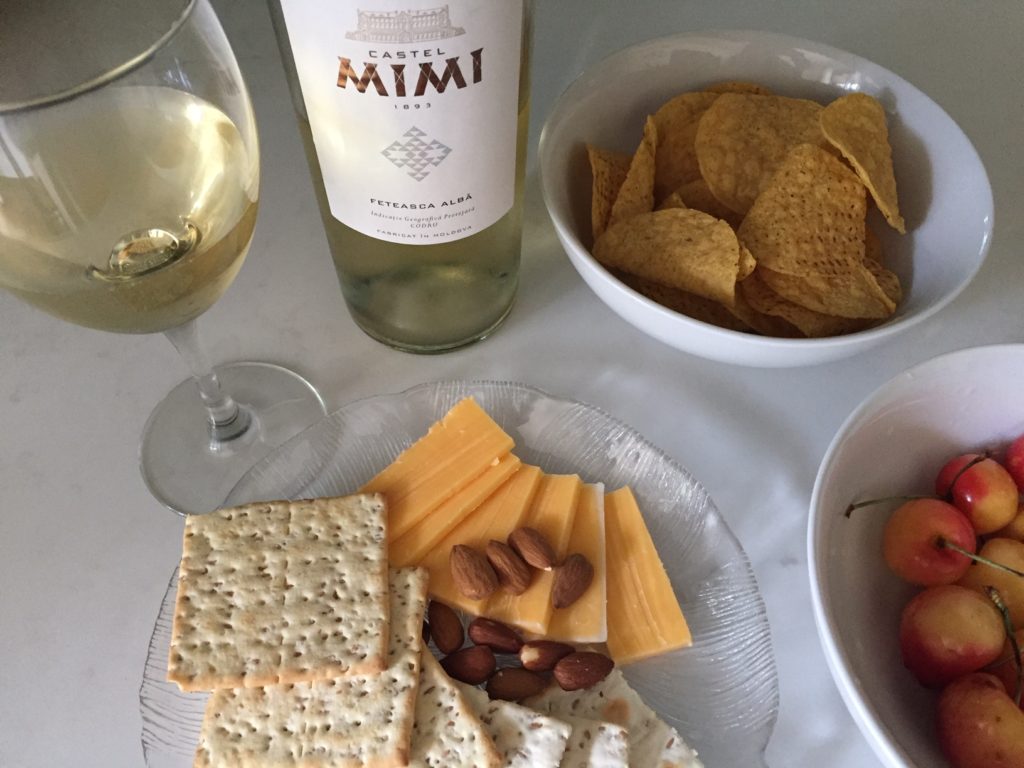 2018 Castel Mimi Fetească Albă, Codru
100% Fetească Albă
The magnificent Castel Mimi (see Jeff's post for details and photos) was founded in 1893. During the Soviet era, Castel Mimi was converted into a state-owned wine factory. Production was ramped up to provide cheap fortified wine for workers of the Soviet state. The exterior of the massive structure was plastered over to hide its beauty, and the excavated cellar walls were tiled over for easy cleaning. In 2011, the castle was restored stone by stone to its former opulence. Castel Mimi has been listed among the top 14 most beautiful architectural masterpieces of the winemaking world by Vivino.
The grape, Fetească Albă, is grown widely throughout Eastern Europe. Fetească means "maiden" in Romanian and is shared by three distinct varieties named for grape color: Fetească Regala (royal maiden), Fetească Neagra (black maiden), and Feteasca Alba (white maiden).
Tasting notes: Golden yellow in color. Super-flowery aromas dominate the nose with hints of peach and melon. On the palate, it tastes like an entire lemon was squeezed into the glass – fruit, pith, and rind. Slightly tart, medium+ acidity. Medium finish. Alcohol: 13%. Average price: $7.
Pairing notes: My first attempt at pairing the Castel Mimi – with soup from leftover grilled chicken – didn't work. The store-bought chicken skewers may have marinated in a slightly sweet sauce that competed with this flowery but dry wine. Solution? Cheese, always cheese. A mild cheddar had just the right balance needed for a successful pairing.
These Moldovan wines are excellent value for price, but unfortunately, difficult to find in the United States. One of the organizers of our event – Wine of Moldova USA – is a source to check out.
Written by : Linda Whipple