Wine of Moldova USA, a division of Vin Distributors, LLC, is a premier importer and wholesaler of fine wines from Moldova
Wine of Moldova USA was founded in 2014 and is dedicated to fleshing out undiscovered and exceptional wines that demonstrate the highest quality available. As a niche wine importing company, Wine of Moldova USA is focused on wines from Moldova with the intention to serve the diverse needs and wants of wine lovers.
Each wine in our portfolio has been found and selected by Andrei and Daria, husband and wife, founders and owners of Wine of Moldova USA. They source wines that reflect the exceptional qualities and terroir of the territory on which they are grown. Andrei and Daria's dedication stems from a passion for wine which Andrei inherited from his father, a winemaker in his home country, Moldova.
Moldova's millennial heritage of wine-making began around 3000 BC, and the first vines were recorded there around 7000 BC. Throughout its history, wine and vine have been deeply enrooted in the culture, myths, folklore and legends of Moldova. Even the map of the modern Republic of Moldova is shaped like a bunch of grapes. The white stork, the protagonist of many local legends, is the symbol of the Moldovan wine industry, as well as the symbol of the continuous revival of the country. Moldova has three vine growing regions with three protected geographical indications for wine – "Valul lui Traian", "Stefan Voda", "Codru" – and a special geographical denomination for grape distillates – "Divin".
Some of Moldova's main attractions also serve as evidence of Moldova being a true wine country. Moldova is in the Guinness Book of Records for the biggest wine collection in the world, consisting of almost 2 million bottles, stored in Gothic-style cases at a depth of 80 meters in the underground wine galleries of Milestii Mici. Moldova is also home to the largest wine cellars in the world. One of them is the underground wine city Cricova, with tunnels stretching for 80 miles at a depth of 300 feet underground. The National Vinotheque is an outstanding collection of legendary wines also kept in the Cricova cellars. The oldest wine in the collection and the only bottle if its kind in the world, is the wine Easter Jerusalem, which was produced in just one batch in 1902.
Today Moldova has the largest density of vineyards in the world. Some of its most popular indigenous varieties are Rara Neagra (Rare Black), Feteasca Neagra (Black Maiden), Feteasca Alba (White Maiden), and Feteasca Regala (Royal Maiden). The international varieties wines however are also of a unique terroir and style, which make them worthy of your attention.
Wine of Moldova USA is a continuously evolving and improving its portfolio of Moldovan wines. We hope you like what we do, but we're always looking for ways to improve, so feel free to connect with us and tell us what you like, or more importantly, what you think we could be doing better. Until then…
Enjoy! Responsibly!
Daria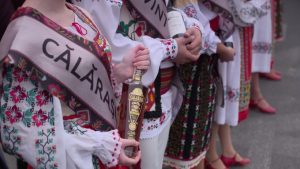 There are some jobs you just can't turn down and a film on wine pretty much tops that list for me. France, Italy maybe even […]
Daria

The Republic of Moldova is the least visited country in Europe as well as the poorest country in Europe. However, Moldova has been producing wine for […]
Daria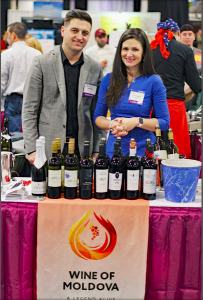 You already know that Russia hacked our election. What you might not have heard is how Russia has also inadvertently hacked our American wine market. And the […]
Daria
2019-11-01T16:07:16-04:00
(Alc.12.5% vol.)
This Feteasca Regala has a greenish-yellow color, an elegant floral flavors and notes of yellow fruits. The taste is balanced, mineral and well-contoured. The fine freshness is conferred by the balanced acidity typical of the variety.