Ground Beef Chili with Red Wine from Moldova
Our easy to make, flavorful Ground Beef Chili gets paired with a Saperavi red wine from Moldova. We also got to try a couple more wines from Moldova as part of our exploration of the country's wines with our Wine Pairing Weekend friends. Disclosure: Wines mentioned here were provided as complimentary samples.
Travel in the typical sense of the world may have come grinding to a halt here in 2020, but we have found wine to be a great way to explore the world these days.
After recent events with my fellow bloggers had me focus on destinations such as Israel, Georgia and other ancient world wines, today our attention turns to Moldova.
Wines from Moldova
I'm pretty good with my geography, but I must confess I definitely had to hop online to see where Moldova is located. Quick answer — the former Soviet republic is located between Romania and Ukraine in Eastern Europe.
Wine clearly has an important place in Moldova's culture and its economy. The winemaking history goes back some 5,000 years, with references in the Iliad to wines from the region. In the Middle Ages, vineyards owners ruled the country, according to the Wine of Moldova site.
Moldova is the country with the highest density of vineyards in the world, with 81,000 hectares planted in the relatively small country. We might not see too many wines from Moldova here in the US, as top destinations for the country's wine include Romania, Poland and China.
But after more US customers have a chance to try Moldovan wines like we did, I expect there will be more demand for it here!
Some 2% of Moldova's GDP comes from the wine industry. By contrast, you have to add the beer and spirits industry along with wine to get to 1.65% of US GDP, according to this source.
Perhaps even more distinctive are the vast underground wine collections to be found in Moldova. One of those, Mileștii Mici, holds the Guinness record for largest wine collection in the world.
Wine of Moldova includes a combination of international varieties and local grape varieties. We got to sample some from both categories, which was fun!
70% of Moldovan vineyards are planted to white grapes such as Rkatsiteli, Sauvignon Blanc, Chardonnay, Aligoté. Common red grapes planted include Cabernet Sauvignon, Merlot, Pinot Noir, and Saperavi.
For more information, visit the Wine of Moldova website and the articles from my fellow Wine Pairing Weekend bloggers — links follow the recipe. Thanks to Jeff from foodwineclick for hosting this event, inspired by his trip to visit wineries in Moldova last year!
Making Ground Beef Chili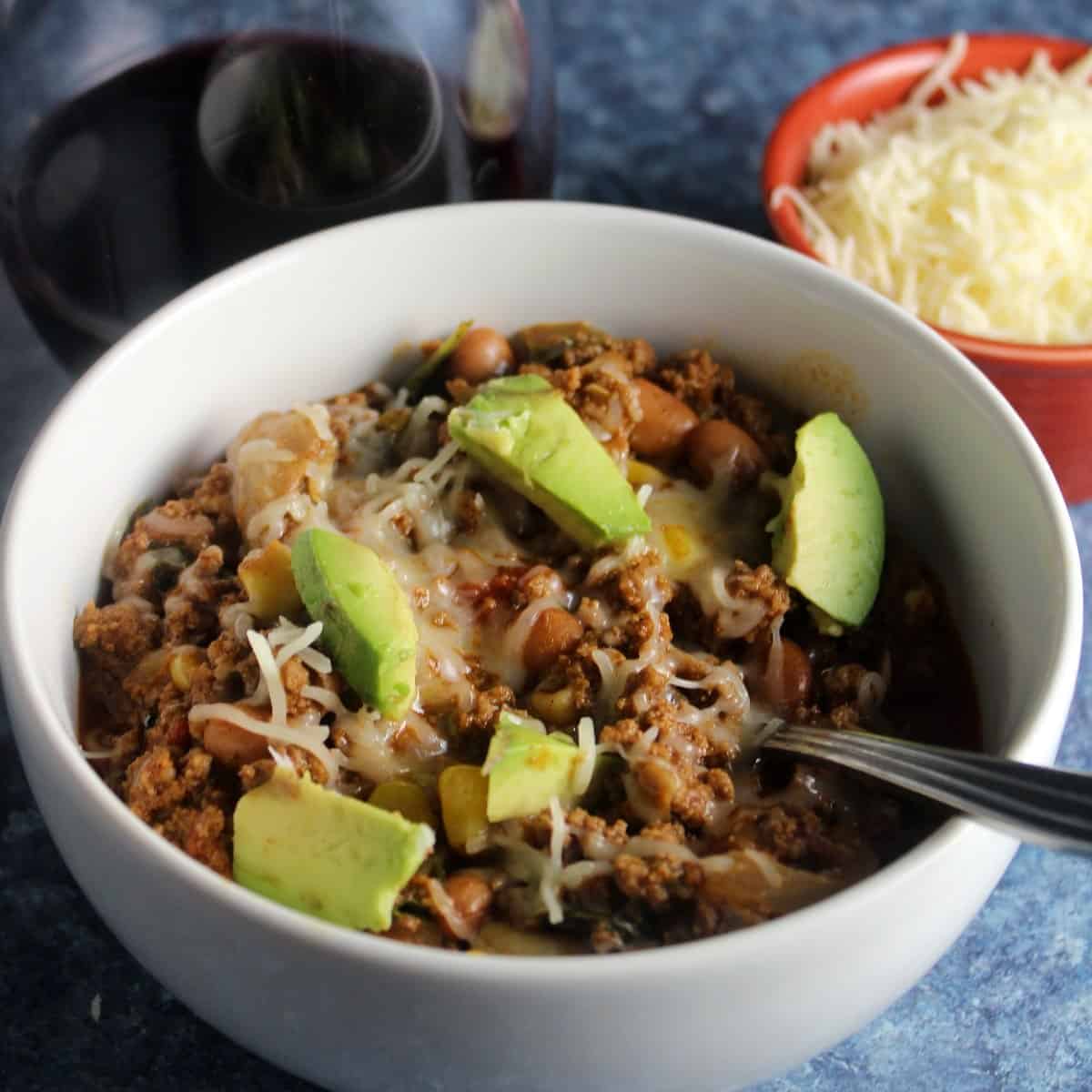 The bottle of Saperavi we were provided to sample suggested pairing the bold red wine with meat or a "spicy stew".
Our grill is out of commission, so why not try some chili, I thought. Wound up being a great call for a Fourth of July weekend meal, served up with the Saperavi.
I tend to make chili with turkey, as in our Easy Black Bean Turkey Chili. But a ground beef chili seemed to be the way to go with Saperavi.
Our beef chili recipe is definitely one you can play around with based on your taste. This version comes out a medium spiciness, which I like better than full on spice when I want to pair the chili with wine. Check out our video on pairing wine with chili for more on that subject.
You can definitely try varying the fresh chili peppers used, and the combination of spices. After I made this batch of chili, someone suggested adding ginger to it, which I wouldn't have thought of. Maybe next time!
I wound up with a bunch of extra cooked macaroni recently. Thinking of a Cincinnati style chili, I decided to add some of that. You could definitely skip if you'd prefer.
Chili purists might cringe at the mention of adding a green like kale to the recipe. But if I'm making something spicy like a pot of chili, I figure throwing a bit of greens into the mix adds a bit of additional nutrition without altering the flavor.
You definitely want to let the chili simmer for a good hour or so to let the flavors meld nicely.
Wine Pairing for Beef Chili
We opened the 2017 Gitana Winery Saperavi ($30, 14% ABV) to pair with our chili.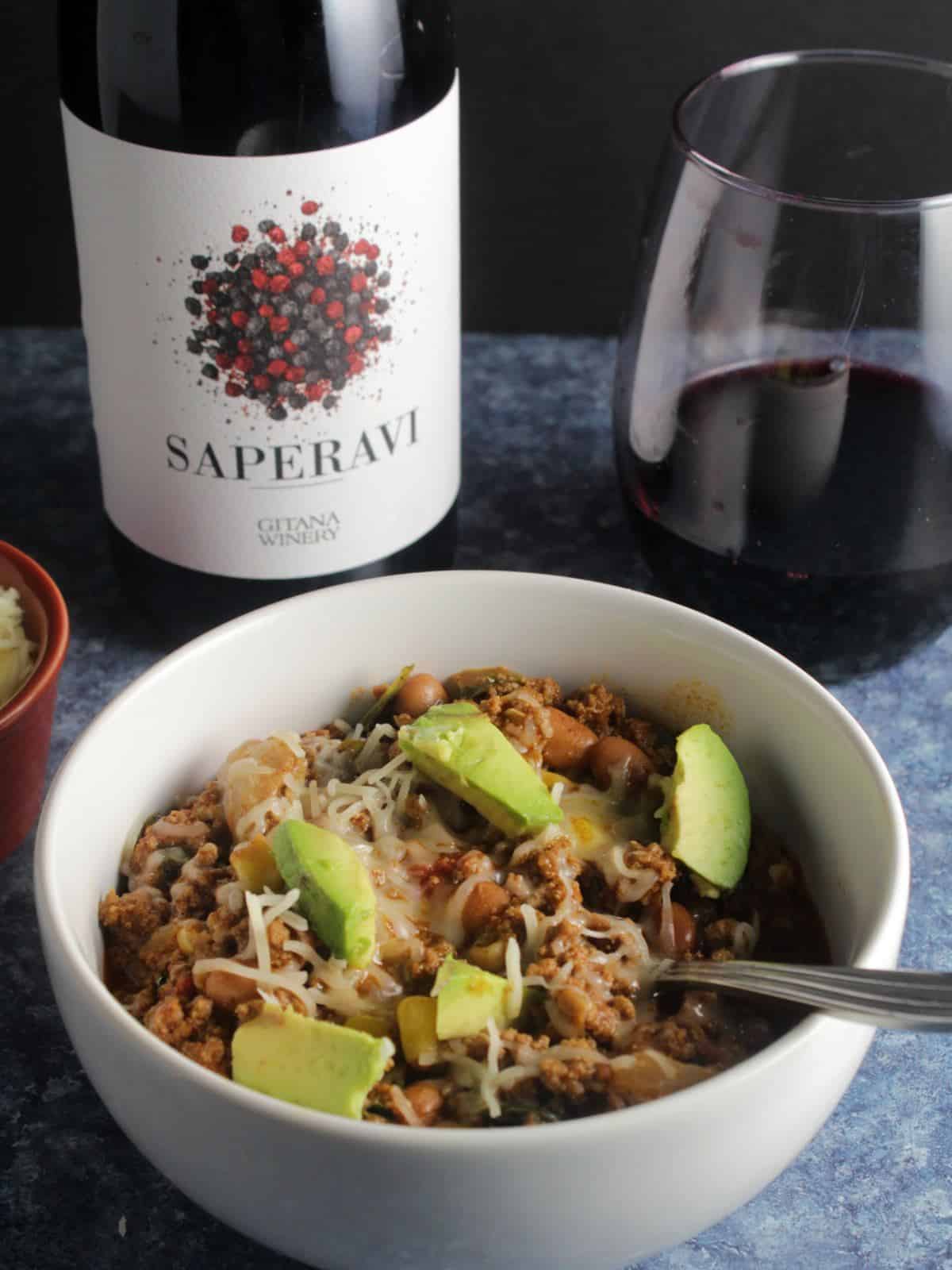 Deep purple in the glass, with violets on the nose. A fruit forward red wine, with cherry and boysenberry on the palate.
The fruit forward aspect of the wine, with moderate tannins, helped make this a wine a good partner for the chili spices. The robust Saperavi has the heft needed to go with the beef. This pairing is definitely a winner that I would recommend!
I didn't notice until writing this up that the wine is aged in clay amphora, which helps to soften the tannins. 
Gitana Winery is located in the southern part of Moldova, in the Valul lui Traian wine region.
More Wine from Moldova
We are highlighting the Saperavi with our chili today, but we enjoyed trying two other wines from Moldova for this event.
The first wine we opened was the the 2015 Chateau Vartely Individo (14% ABV), a blend of Cabernet and Merlot. We paired it with our Vermont Wagyu Beef Ribeye with Caramelized Onions (meat lovers, you definitely need to check that out!).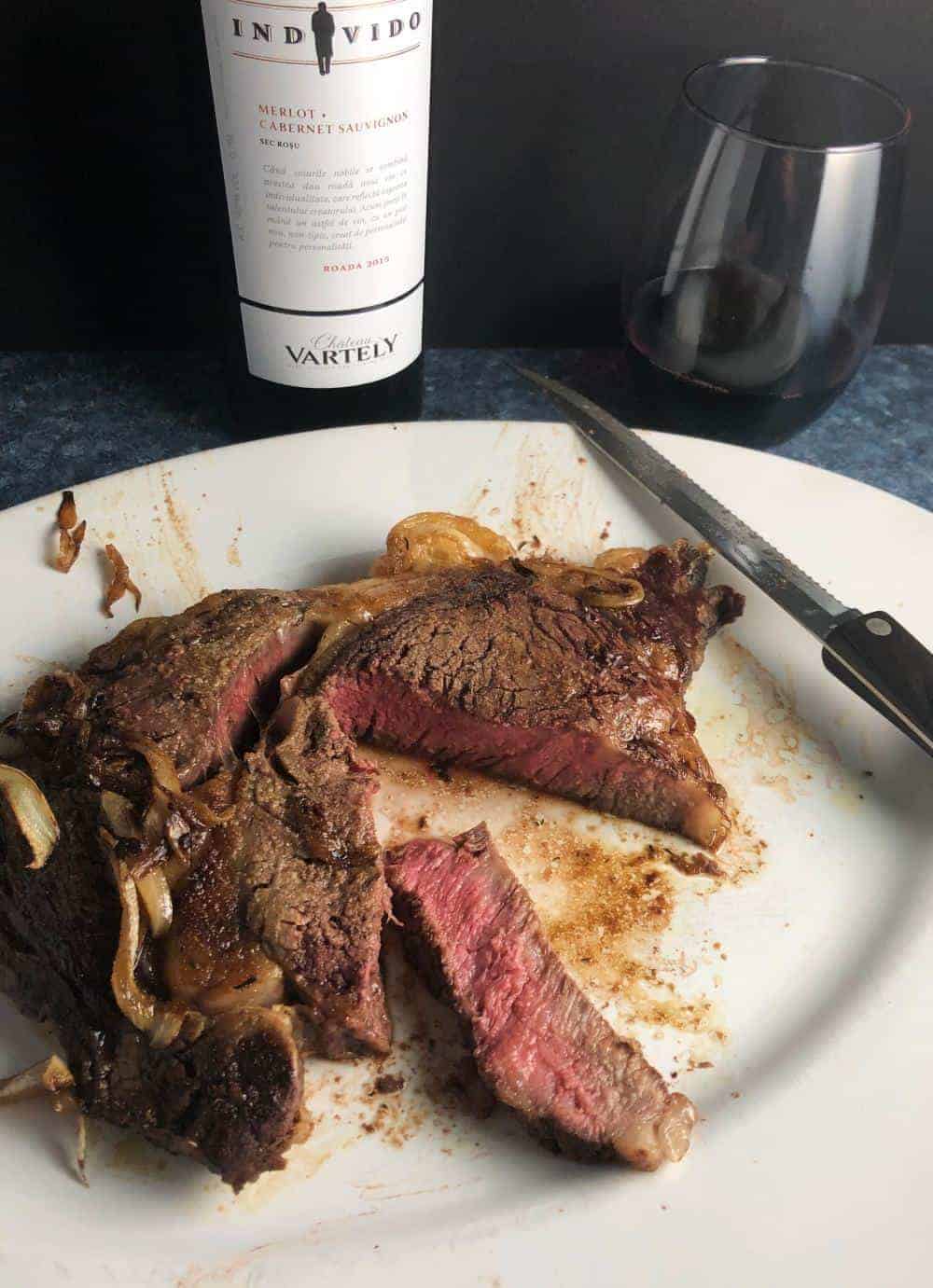 The Individo is dark red in the glass with amber notes. Lush berries and bramble on the nose. On the palate, prunes and toffee. Reminds me a bit of an aged Bordeaux. Interesting yet approachable wine. Paired very well with the Wagyu ribeye!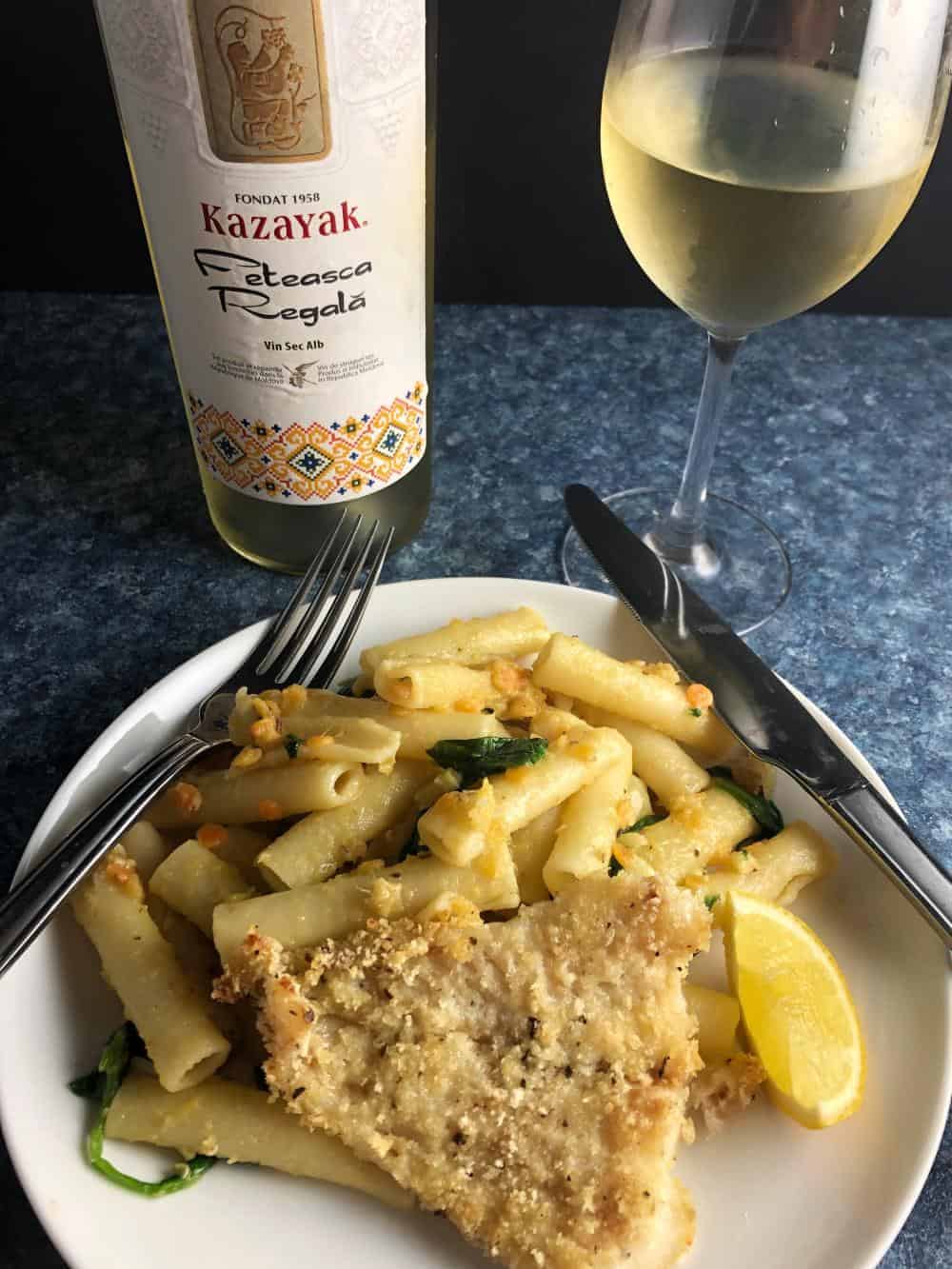 On a lighter note, we got to try a white wine made from an indigenous grape, too. The Kazayak Feteasca Regala (12.5% ABV) has lemon peel and hibiscus on nose. On the palate, kiwi and lemon fruit with notes of seashell.