Daria
2017-11-22T11:41:45-04:00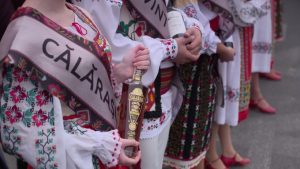 There are some jobs you just can't turn down and a film on wine pretty much tops that list for me. France, Italy maybe even California popped into my mind. Moldova certainly did not. But that's what I love about this job. It never fails to surprise and educate.
And so off we went to Moldova, slotted in between Ukraine and Romania, it's not your classic image of wine-growing terrain. In the capital of Chisinau the legacy of the Soviet past is evident throughout. The oppressive tower blocks are hulking grey structures on most streets.
However, venture a little further out and it all begins to look much more like the lush land of vine and grape more traditionally associated with wine production. In fact, this beautiful countryside has the highest density of vineyards in the world.
Drinking Games: The curtain rises on Moldovan wine
Daria
2017-11-22T11:41:45-04:00