Remember festivals?
I haven't been to a festival or outdoor celebration since the pandemic started. Frankly, there's been little to celebrate lately. All the more reason to embrace Eu deVIN sărbătoare – Moldovan for "My Wine Day," the 2020 version of Moldova's National Wine Day.
What? Moldova? Yes, in 2016, this small East European country had the 13th largest share (approximately 2.5%) of the global wine area and was sixth in the world for share (6.5%) of national crop area under wine grapes.
Moldova's long history of winemaking began around 3000 BC, and the first traces of grapevines in these lands have been dated to around 7000 BC. Throughout its history, wine and grapes have been deeply rooted in the culture, myths, folklore, and legends of Moldova. Even the map of today's Republic of Moldova is shaped like a bunch of grapes.
National Wine Day, now in its 19th year, is held annually on the first weekend of October. In years past, producers gathered on the main square of Chișinău, the nation's capital, to offer tastings and master classes, and wineries across the country opened their doors to welcome visitors.
This year, there will be no stands in the capital city. But wineries will welcome visitors with tastings, food pairings, music, and more. Plus, the event will go international with transcontinental online tastings and events.
On Sunday, Oct. 4, a group of bloggers is raising the Moldovan flag for its first World Wine Travel (#WorldWineTravel) chat on Twitter, starting at 8 am PT/11 am ET. You're invited to join this virtual group hug with Moldova, a little country that could – and did – revive and re-envision its local wine industry. Simply follow the hashtag.
(Please note that while the wines for this post were provided, opinions are my own.)
Quick facts about Moldova
Located in Eastern Europe, bordered by Ukraine to the east and Romania to the west.
Moderate continental climate with short (though sometimes very cold) winters and long summers.
Landscapes vary from steppes in the east, to forested hillsides in the central zone, to the vast Bugeac plain in the south.
225 total registered wineries.
Highest density of vineyards in the world.
Over 30 types of varieties: 85% European, 10% Black Sea, 5% local grapes.
During the first half of 2020, the bottled wine market had a 5% increase in volume and a 0.2% increase in value.
740 medals were awarded to Moldovan wines at international wine competitions in 2019.
Vast underground cellars at Cricova and at Mileștii Mici were established in former limestone quarries with almost 125 miles of tunnels.
Milestii Mici holds the biggest wine collection in the world, registered in the Guinness Book of World Records, with more than 125,000 cases of wine.
Sources: Which Winegrape Varieties are Grown Where? By Kym Anderson and Signe Nelgen (University of Adelaide Press, 2020); Wine of Moldova; Wine-searcher.com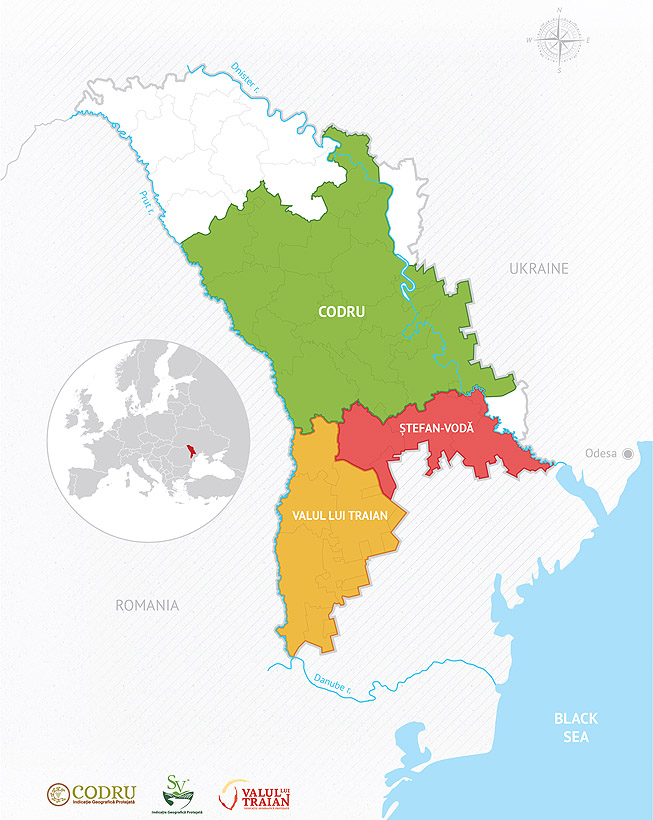 The wines
Note: All four of these wines were skillfully produced and would stack up against high-quality wines from just about anywhere in the world. Problem is, they're not readily available in the U.S. Prices below seem high to me. You probably can get them for less – if you can find them.
2018 Radacini Ampre
70% Saperavi, 20% Fetească Neagră, 10% Merlot
Radacini winery is located in Codru, the country's coolest wine region. The region is noted for white grapes, but red varieties can also be grown in warmer microclimates.
Saperavi is a native grape that hails from the Georgian Republic, but it's widely grown throughout the Caucasus and in various regions of the former Soviet Union. In Georgian, "Saperavi" means "dye," an apt name for the intense color this high-acid grape brings to wines. Fetească Neagră, which translates as "black maiden," is a thin-skinned red grape native to Moldova and Romania that exhibits spicy, smoky, fruity characters, and good tannin structure. Grapes are hand harvested and fermented separately. Saperavi is aged in oak for 3 months.
My tasting notes: Ruby in color. Heady nose of cherry, prune, and violets, followed by cherry and sour cherry on the palate. Hints of vanilla on the mid-palate. Long-lasting and zingy high acidity. Light-to-medium body. Spicy, medium+ finish. Alcohol: 13%. Price: $19.99 (VINOvations).
2015 Roșu de Purcari, Ștefan Vodă IGP
50% Cabernet Sauvignon, 35% Merlot, 15% Malbec
Located in the Ștefan Vodă wine region ofsoutheastern Moldova, not far from the moderating influences of the Black Sea, Château Purcari has been a producer since 1827. Wines from this highly esteemed estate have been served in the royal courts of Europe for over 150 years. Purcari's first gold medal was awarded in 1878 at the World Exhibition in Paris.
My tasting notes: Deep ruby in color. Ripe black cherry and blueberry on the nose with a hint of minty wintergreen. Bit of vanilla on the mid-palate. Chocolate notes and a long-lasting shake of black pepper at the end. Rich, medium+ body. Long finish. A bit tannic now. I recommend aging for four to five years. Alcohol: 13.5%. Price: $39.99 (VINOvations).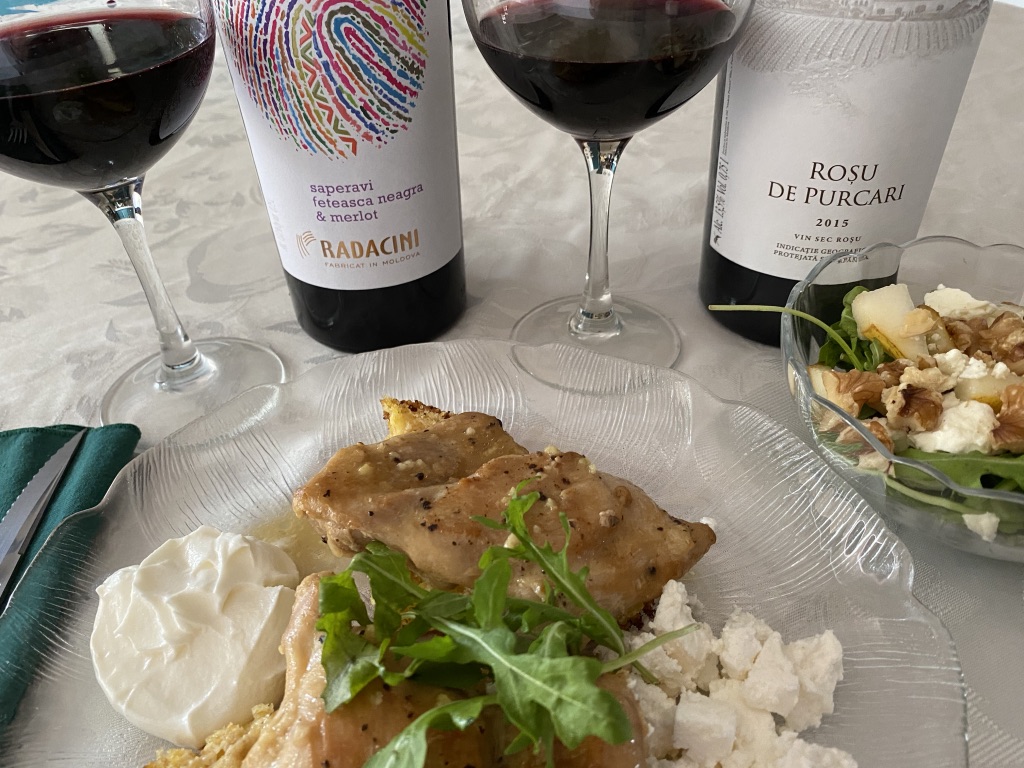 2018 Suvorov-Vin Viorica Kazayak
100% Viorica
Founded in 1998, Surorov-Vin is also located in Ștefan Vodă and is one of the biggest wineries in Moldova. Viorica is a Moldovan female name. Grapes for this wine are hand harvested.
My tasting notes: Pale yellow in color. Smells like summertime – nectarine and apricot with hints of grass and wildflowers. Palate is slightly grassy with plenty of lemon and lemon zest and a bit of grapefruit. Similar to a warm-climate Sauvignon Blanc. Round mouthfeel. Medium+ acidity. Medium+ finish. Alcohol: 13.0%. Price: $17.99 (VINOvations).
2018 Castel Mimi Fetească Albă, Codru IGP
100% Fetească Albă
Castel Mimi, the only wine castle in the Republic of Moldova, is a huge success story. Built in Codru in 1893, the castle was converted into a state-owned wine factory during the Soviet era. In 2011, an ambitious restoration project was initiated to renovate the mansion stone by stone. Today, Castel Mimi has been listed among the most beautiful architectural masterpieces of the winemaking world.
Fetească Albă, the "white maiden," is a native white variety grown widely throughout Eastern Europe. The wine was not aged in oak.
My tasting notes: Bright yellow in color. Nose is a pleasing blend of lemon, apricot, and flowers. On the palate, lemon zest, grapefruit pith, and telltale honeysuckle blend together for a tingly, slightly tart sensation. Medium+ acidity. Medium+ finish. Alcohol: 13%. Price: $18.99 (VINOvations).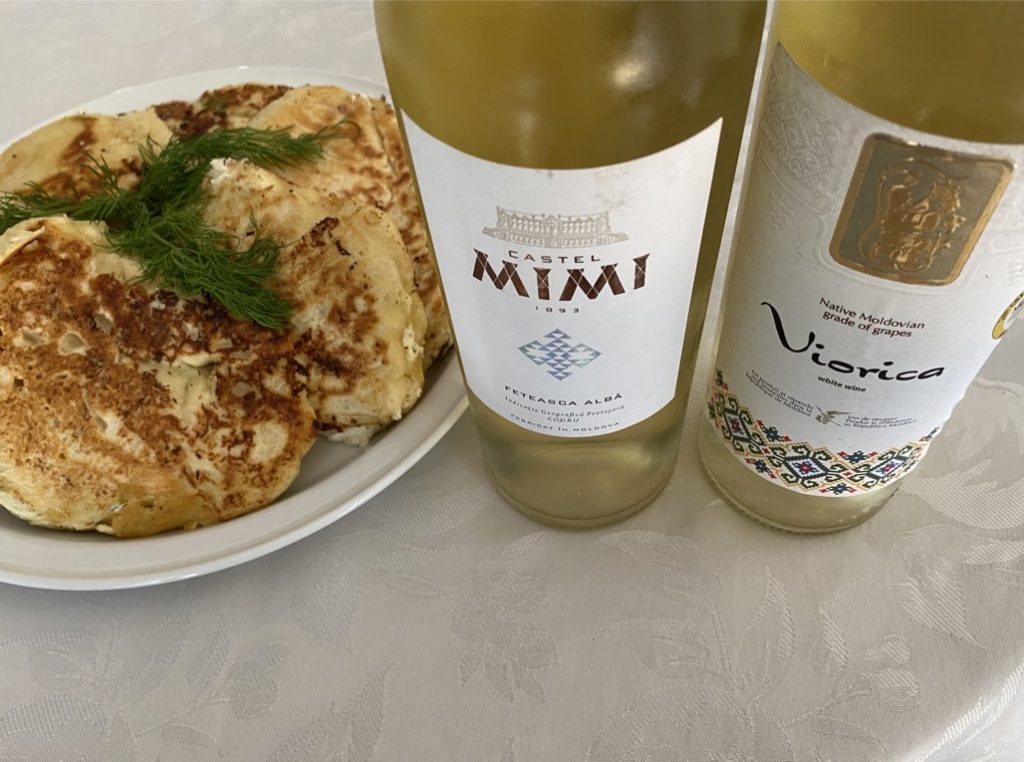 The food
Last time I wrote about Moldovan wine, I was intimidated by the idea of cooking local dishes. For this post, I was determined to overcome my fears and just do it. The results? Quite good, actually – even "wow" in a couple of ways.
Mamaliga – Mamaliga (mama-leegah) is a polenta or wettish cornbread topped by a savory chicken sauce, and often served with sour cream and brinza (a salty, homemade cheese). I adapted this recipe by using leftover cornbread I had on hand and substituting sheep's feta for the Brinza. I wondered how a simple chicken sauce – seasoned only with garlic, salt, and pepper – would taste with tangy sour cream and salty cheese on the side. But wonder of wonders (to me, anyway), it is so tasty, and the pairing with the high-acid, spicy 2018 Radacini Ampre was one of those "wow" moments.
Placinta – Placinta (pla-chin-ta) is fried bread with filling, usually brinza (homemade cheese), varza (cabbage) or cartofi (potatoes). Seasonal fillings are common, such as sour cherries in summer and pumpkin in the fall. Sometimes ingredients are mixed or the brinza is mixed with sour cream. I opted for ricotta placinta with a couple of teaspoons dill. I channeled my blogging buddy Camilla at Culinary Adventures with Camilla (did you get that vibe, Camilla?) who handles dough regularly. I do not – and my kitchen showed it. What a mess! But these "cheese pies," as my family calls them, were a huge hit. We topped them with Za'atar and paired them with the two white Moldovan wines. The pairings were OK, but the wines seem to need salads or tomatoes (or sour cream!) to bring out their full flavors.
Lots of bloggers are on the train to Moldova this go-round. Hope you enjoy their posts and can join us 10/4 for the chat.
Written by Linda Whipple